The ATDW is Australia's national tourism database and distribution platform which represents over 40,000 small and medium sized tourism products and destinations.   The ATDW's ultimate function is to support the Australian Tourism Operators with digital marketing to help extend their exposure and attract more business online.
By listing a product once in the ATDW database, Tourism Operators benefit from being listed on their State or Territory Tourism Organisation's (STO) consumer website, the Australia.com website and through ATDW's extensive network of over 200 tourism distributors, including Leezair and it's network of partners. This content solution submits to standards, defined and quality assured by all state and territory government tourism organisations on a daily basis.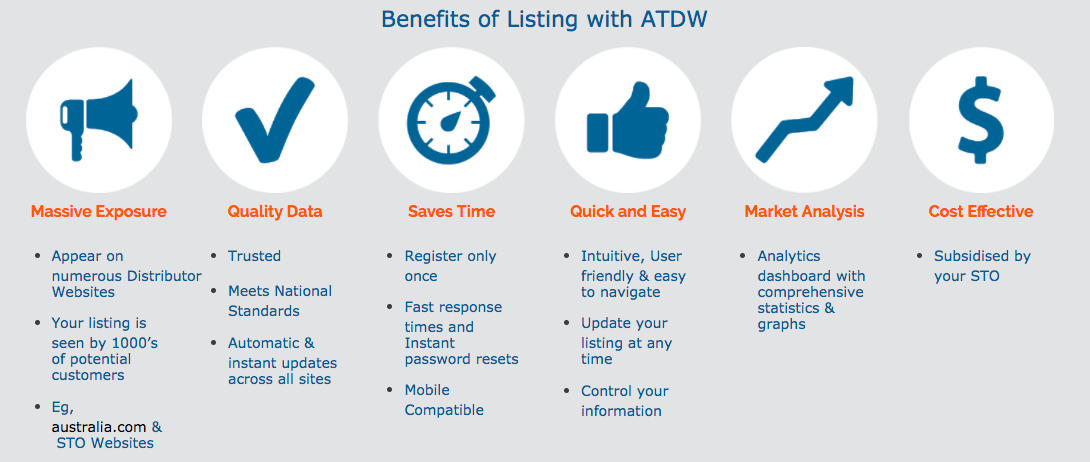 What will Leezair bring on top?
Live availabilities and Instant booking capabilities
Additional curation improving Conversion rate and automated data enrichment
Online marketing tips
Innovations such as Leezair VR
Worldwide distribution in Visitor Centres and Hotel Lobbies via Leezair Kiosks
Distribution across Airlines, Hotels, Cruises, Car rentals, etc.
Leezair Marketplace creates new business opportunities for ATDW distributors. Together with publishing ATDW's rich content, distributors also have the option to extend their online offering by enabling live availabilities and instant online bookings across their products.
Leezair Marketplace is an inclusive booking exchange and ecosystem combining ATDW's rich content with live rates and availability, delivering a secure payment process with instant booking confirmations and reminders.
Once onboarded (free registration) ATDW's Attractions, Events and Tour listings can now be booked through the Leezair platform across 4 categories of Accommodation, .
In short, Leezair is connected to hundreds of reservation systems and if you don't have any, will provide one for free; where you can manage your availabilities, bookings, customers and payments. 

Tip: You could enable today your optional ATDW "Book now" button by putting your Checkout Leezair URL as Booking URL. 
See example below: